Free Ebook: Ultimate Guide to Slide, Negative, Film & Video Formats
The first step is often gathering all your media types and formats together and figuring out what exactly your collection includes.
Our ebook will help you identify slide, negative, film and video formats.
What you'll see:
• Brief history of the formats
• Description of what the formats look like
• Pictures of the formats
This guide is a great place to start saving the memories.  We have designed this ebook to be your perfect companion for this process!
Learn more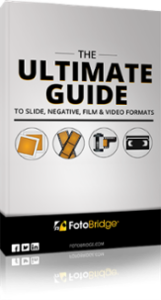 Download the Ebook