Free Ebook: The Ultimate Guide to Slide, Negative, Film & Video Formats
Here's the great news about FotoBridge – they digitize your archives for you.

The challenge is gathering all your formats together and figuring out what exactly has been hiding in your attic.
Our ebook will help you identify slide, negative, film and video formats.
What you'll see:
• Brief history of the formats
• Description of what the formats look like
• Pictures of the formats
We understand that most people would love to digitize slides, negatives, and movies but don't know where to start. We have designed this ebook to be your perfect companion for this process!
Learn more
Like the range of digital options available to capture your memories, there have been many formats of analog technology over the years – here's what you need to know.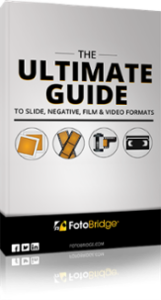 Download the Ebook



Are you looking to digitize slides for your next family gathering but are worried you can't even identify what you have in your archives? Don't fret! This is why we've compiled a guide that will help you through the initial process of identifying the kind of analog materials you have.