Large-Scale Photo and Movie Film Archive Digitizing Services
Why do leading organizations choose FotoBridge as their go-to enterprise scanning service?
Large enterprises, institutions, brands, and global companies continue to select FotoBridge for the unrivaled level of capabilities, resources and proven commitment to client success as a preferred enterprise scanning service partner:
Secure facilities and processes needed to ensure safety, privacy and delivery based upon your requirements
Capacity, expertise, infrastructure and resources needed deliver the highest quality results quickly
Flexible delivery and integration options including DAM systems support and consulting services
Secure, USA-based national service facility with end-to-end tracking, video surveillance – fully insured
See how FotoBridge can unlock your
organization's unique, brand – relevant visual archive of photographic prints, slides, negatives and movie film.






Read more about our enterpise-level clients »
We worked closely with the FotoBridge team to sketch out the scope of work and project parameters and without hesitation turned over the team's collection. These files are all we have left of something that's gone. Our venues are gone, and all we have left are the memories. We could not be happier with everything FotoBridge did for us. 

Zachary Tarrant   Archive Coordinator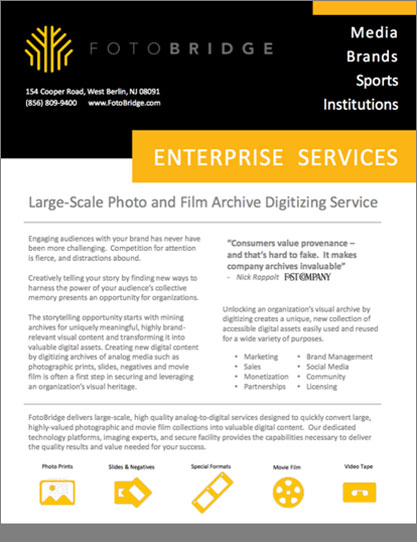 Learn more. Take action now. Download the brochure.